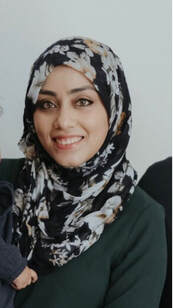 Samreen is a certified Speech Language Pathologist. She received her bachelor's degree in Biology and Psychology from the University of New Mexico and her graduate degree in Speech-Language Pathology from George Washington University. Samreen holds a Certificate of Clinical Competence from the American Speech-Language- Hearing Association (ASHA) and is licensed in the state of North Carolina.  
Samreen's professional experience includes working with individuals of all ages including children with a variety of communication impairments including speech sound disorders, language delays and disorders, fluency disorders and Down syndrome.  Her experience as an SLP also includes working with early intervention (birth-3 years), children with Cochlear Implants, preschool and school-age (K-12) children. She also has experience working with adults with communication and swallowing disorders such as aphasia, dysphagia (feeding/swallowing), transgender voice, voice disorders, and fluency.
Samreen has always enjoyed working and playing with children. She is passionate about helping parents/families understand their child's development. She is a firm believer in providing caregivers with tools to promote change and enrich their child's language skills.  Samreen believes that language is developed best in a child's natural environment, through parent/child connection, and with a play based and fun approach. Can't wait to work with you!