Occupational therapy focuses on assisting your child with everyday activities, routines, and "jobs" (occupations) across multiple environments. From the playground to the classroom, and every space in between. Occupational Therapy focuses on improving fine and gross motor skills. It helps children who struggle with self-regulation, sensory processing, picky eating, and overall functional life skills. Occupational therapy focuses on motor, cognitive, sensory processing, communication, and play skills.
If you happen to notice difficulties in one or more of these areas, an evaluation for treatment may be appropriate: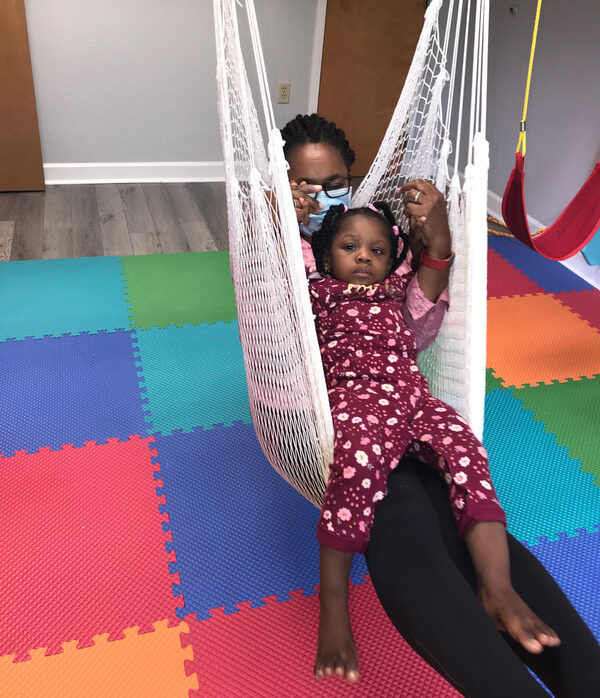 Easily Distracted
Poor Attention Span
Overly Sensitive to Touch, Movement, Sounds or Sights
Difficulty Accepting Change
Doesn't Skip, Jump, or Hop on One Foot
Activity Level Usually High or Low
Poor eye hand coordination
Difficulty dressing
Low Muscle Tone
Limited Play Skills
Walks on Toes
Walks into People or Objects Frequently
Inability to "Unwind" or "Self-Regulate"
Excessive Drooling
Trouble using spoon or fork
Picky Eater
Doesn't Chew Food Before Swallowing
Doesn't Feed Self
Clumsy / Uncoordinated
Constantly Touches People or Object
Poor Social Interaction
Difficulty Holding a Pencil or Handwriting (3+)
Have Q's? We are here to help
Attention Deficit Disorder
Attention Deficit
Hyperactivity Disorder
Anxiety
Autism Spectrum Disorder
Brachial Plexus Disorder
Cerebral Palsy
Club Foot
Developmental Delay
Developmental
Coordination Disorder
Down Syndrome
Dyslexia
Edwards' Syndrome
Feeding Difficulties
Fragile X Syndrome
GERD/GER
Lack of Coordination
Mitochondrial Disease
Muscle Weakness (generalized)
Oppositional Defiant Disorder
Prader-Willi Syndrome
Prematurity
Seizure Disorder
Sensory Integration Dysfunction
Sickle Cell Disease
Spina Bifida
Spinal Cord Truma
Stiffness of Joints
Taylor Sachs Disease
Torticollis
Traumatic Brain Injury
Turner's Syndrome
Williams Syndrome
Dana (OT) is the absolute best she's the therapist for both my daughters one who's autistic and she's so patient with her Ava loves her 💕 I would definitely recommend.
Our OT at Therapy Smarts Inc has been such a pleasure to work with. We have seen such a vast improvement with my wild 2 year olds behavior and speech. She is very pleasant and fun loving. She really knows how to bring out the best in my son. He just loves her! He's so excited every time she comes through the door! I don't know what we would've done without her! We are very thankful for her expertise and the way she really puts her all into helping my son and making him feel comfortable while having fun and learning at the same time.