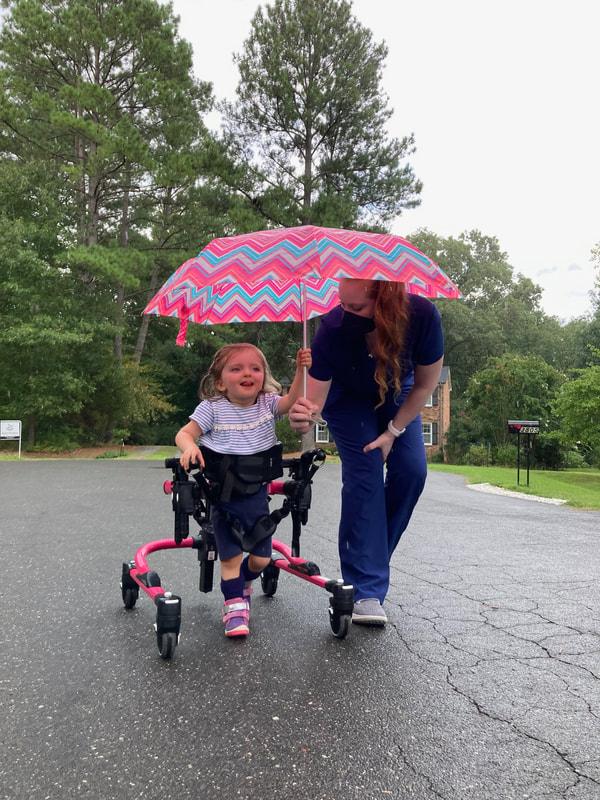 Physical therapy addresses limitations related to gross motor skills, which are tasks that involve large muscle groups of the body such as sitting, walking, and jumping by working to improve strength, range of motion, balance, and coordination and ultimately help a child improve their ability to participate in physical activity and meet developmental milestones. It focuses on helping children develop the independence and ability to safely access their environment and explore and play with their family and friends. Our physical therapists also help families with the process of attaining appropriate orthotics, prosthetics, and durable medical equipment (DME) including wheelchairs, standers, gait trainers, and much more.
If you happen to notice difficulties in one or more of these areas, an evaluation for treatment may be appropriate:
Doesn't like tummy time
Poor head control while on their stomach or while sitting
Holds head tilted to one side or only looks in one direction
Concerns about posture and positioning
Delays in motor development, such as:

Not yet sitting by 6 months old
Not crawling by 10-11 months old
Not walking by 18 months old
Walks on toes
Clumsy/difficulty with balance and coordination
Falls frequently and/or has trouble stopping falls and protecting their head and face
Doesn't skip, jump, or hop on one foot
Poor endurance/difficulty keeping up and playing with friends
Sports and non-sports related injuries
Have Q's? We are here to help
Brachial plexus injuries
Brain injuries
Cerebral palsy
Children with flat feet
Club foot
Coordination and balance challenges
Dandy-Walker syndrome
Developmental coordination disorder
Developmental delay
Down syndrome
Fragile X syndrome
Genetic disorders
Gross motor delay
Hydrocephalus
Imbalances in muscle tone (often called low or high muscle tone)
Infants born prematurely
Muscular dystrophies
Muscle weakness (generalized)
Neuromuscular disorders
Plagiocephaly
Recovery from sports and non-sports related injuries
Scoliosis
Spina bifida/tethered cord
Spinal cord injuries
Torticollis (head tilt or preference to look to one side)
Traumatic brain injury
I have to take a moment today to write my enthusiastic praise of our PT at Therapy Smarts Inc. She has been working with my daughter for over a year now, and has always provided excellent therapy at our home. My daughter looks forward to "playing" with her during their weekly sessions and blows her kisses when she leaves. But beyond that, our PT has been an incredible support and resource for me as mom of a medically complex kiddo. She has proactively helped us obtain equipment and aids; understand services, billing and insurance complexities; troubleshoot all sorts of challenges; and advocate for my daughter in the school setting. She's done her own legal research to help me understand my daughter's rights; provided written instructions for me to help train other caregivers; and made herself available by phone and email even on weekends. She is an excellent teacher, is truly invested in the lives of the kids who are in her care, and I couldn't be more grateful that she's on my daughter's team.
We love our PT at TherapySmarts! Marissa has helped our toddler grow from unable to lift her head at 2 months to a strong and beautiful little girl. We couldn't be more thrilled and satisfied with her work, and we couldn't recommend her more.