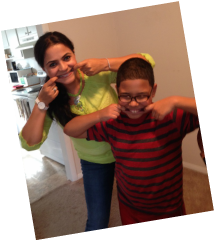 Turning challenges into triumphs one child at a time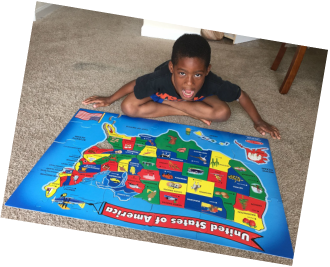 At Therapy Smarts, we have helped countless parents just like you transform their children's lives for the better. But don't just take our word for it – hear what our parents have to say about their experience with Therapy Smarts
Avani, gave our son the gift of communication. We could never repay her for everything she has done for him, she takes her job so seriously and works so hard. We feel lucky to have her in our life. Everyone who knows our son is amazed at the progress he has made in one year. We know this would have never happened without Avani's dedication and commitment to her profession. She is such a caring person that is why our son responded to her so well. We consider her a good friend and plan to keep her in our life. Thank you.
I have really enjoyed Ms. Avani Shah work with our girls. Since they have been with her, their speech has improved by 80%. Others outside of family can understand them which has helped with their confidence and deflate any anxious feelings that may have had communicating with others. The girls enjoy every session and can't wait to implement all the things they have learned. Thank you for helping our girls' light shine a little better.
In the time Ms. Shah has worked with my son James I have seen marked improvement in his speech and reasoning skills. He is more open in his dialogue, which had been an issue due to many factors. Ms. Shah helped build a stable learning environment that has helped my son grow on many levels. I truly appreciate all the work she has done for James and how its helped shape his new positive attitude.
Avani Shah displays excellent work ethics and is very knowledgeable in her work. My daughter Abby has made tremendous strides since working with Ms. Shah, this will show dividends this coming school year. I would highly recommend her to the parents that are considering an SLP in the future.
Ms. Avani entered our home with a positive attitude and love for children. She immediately reviewed their goals and as sessions progresses she would evaluate our children and give us an updated report on their progress. Ms. Avani comes prepared for each session and motivates our children to perform as well as improve daily. Our children are happy to see her therefore creating a positive atmosphere for learning. We are thankful for Avani's commitment, upbeat personality, and professional service she offers to our children.
Dana is absolutely the best. She's been working with my daughter since she was 2 years old(be 7 next month). My daughter LOVES when she sees/interact with her. They have a very unique/stubborn bond 😂 but it works for them. So thank you so much Dana for all you do to help my baby reach her goals.
Ms. Nicole has been great! My son, Michael, who has Down Syndrome, looks forward to working with her every week and she knows how to get the most out of him. He has made great progress and he really enjoys the sessions.-
Hannah was wonderful with my son and gave us great strategies to improve his vocabulary! He made great progress and only needed four months of sessions to get caught up and is now saying new words every day. Highly recommend!-
My 8 Years old autistic son is getting Speech Therapy and OT from Theraphy Smarts, Inc and I would like to say "Thank You" to whole staff there and specially to - Speech Therapist Hannah Reed who is going above & beyond and constantly thinking about how my son gets better with his speech. i could see lot improvement in his understanding and using ACC device very efficiently and more and more words... Hannah has big picture view on how to support my son and what we as a parents should do at home to support more. - OT Kristine Boykin who has structured approach to help my son on his OT need. Kristine and Hannah are a great team to provide personalized and tailored care to my son. I am really thankful to Therapy Smarts management - Avani to keep same therapists for longer that's key to see tangible improvements on kids on spectrum. My son took time to get along with Kristine and Hannah and having them working with my son for over a year has formed a very good foundation and i am looking forward to more improvements in coming months.-
We love our PT at TherapySmarts! Marissa has helped our toddler grow from unable to lift her head at 2 months to a strong and beautiful little girl. We couldn't be more thrilled and satisfied with her work, and we couldn't recommend her more!
Marissa Pozella-Burling is great if I could I'll give 10 stars she go's above and beyond for me and my granddaughter Mariah understands us we trust this process with her, Marissa rocks very kind overtime even though I know my granddaughter can be a bit stubborn but stands by her it's great to see how far she have came with Marissa
We used Therapy Smarts for our daughter and son. Our daughter was a picky eater and had sensory issues with some textures, so we did the feeding therapy through Therapy Smarts and they were exceptional! The therapist was extremely patient, knowledgeable in the different techniques, and fun! What i really appreciated is the communication from the owner who was very responsive, kind, and honest. As soon as they felt that our daughter was good to go, they taught us how to continue things ourselves instead of pushing to continue therapy for a long period of time. We also used them also for our son for speech therapy. And again, Therapy Smarts was a savior! They really have very knowledgeable therapists and the practice is incredible to work with. Cannot recommend Therapy Smarts enough! Thank you for all that you did for us.-
It has been a great experience since day one. My son needed extra help after school and many places had a waiting list. Therapy Smart has been nothing but awesome. It was such an easy transition for my son since the therapy is at home. They work around my schedule, which is great. Everyone one of them make you feel comfortable and they are always open to listen to your needs and concerns. They focus on your child's unique needs and it has been amazing.
Now, with everything that is going on with Covid-19 , I can say I feel so grateful for the therapists. It is hard for kids to stay focus and adjust to the changes but his speech therapist and OT made the Teletherapy easy and very interactive and use subjects he likes to get his attention. They are very patient and work with him to keep him engaged in every session. Each day gets better as my son is adjusting to all the changes. I'm so happy that even though so much has changed in the last month , his daily routine will continue the same. He still has the support he needs to succeed at school and daily life.
Therapy Smarts is fantastic and their team is exceptional. Our child has thrived since working with his therapist. Dana is wonderful! She has made therapy fun for child! Our child fondly looks forward to each session and we are excited to see our child excel and thrive!
Samreen, our SLP, is great with my 2.5 year old. She's energetic and patient, creative and knowledgeable, really just great for kids. Her communication and education with me as a parent is also great. We're so glad we found her.
Ready to Get Started? Click Below!